INTRODUCTION
A cockpit or flight deck is the area, usually near the front of an aircraft or spacecraft, from which a pilot controls the aircraft. he cockpit of an aircraft contains flight instruments on an instrument panel, and the controls that enable the pilot to fly the aircraft. In most airliners, a door separates the cockpit from the aircraft cabin. After the September 11, 2001 attacks, all major airlines fortified their cockpits against access by hijackers.
The cockpit is the part of the aircraft that offers visibility to the front and sides, and houses the pilot(s) and other crew members, for example in older passenger airliners with a flight crew of three, or in military aircraft performing missions that require different tasks to be carried out in the cockpit. Within easy reach of the seated crew, the cockpit contains all the display, control and communications equipment that crew members need to operate and navigate the aircraft on the ground and in the air, talk to ground installations or other aircraft, and monitor or control onboard systems and equipment (engines, fuel tanks, air conditioning, etc.).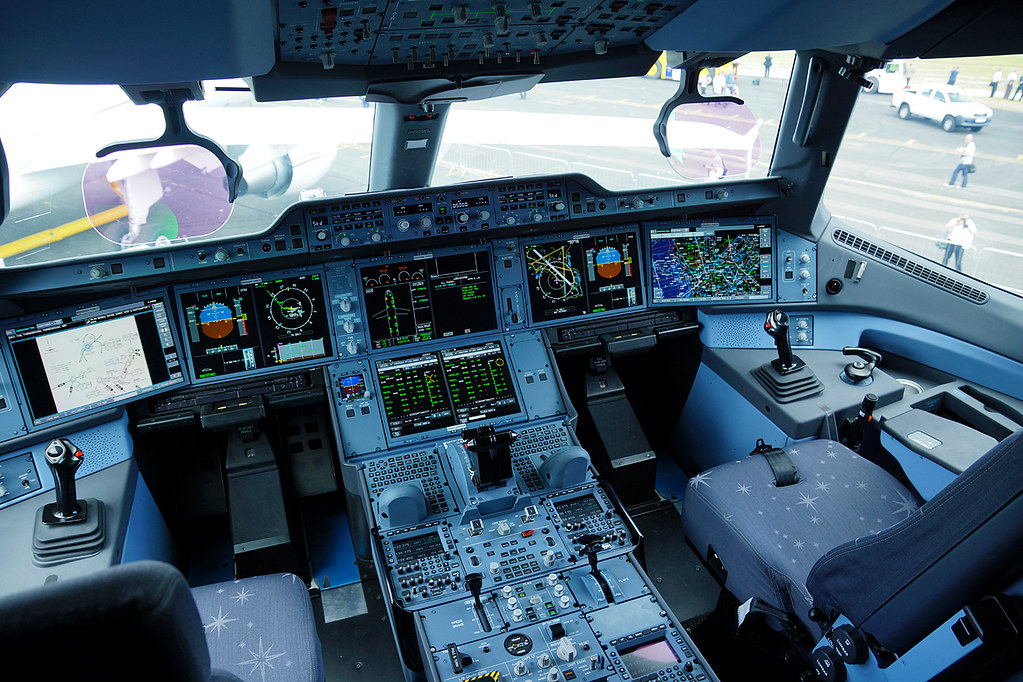 COCKPIT LAYOUT AND INSTRUMENTS
Instrument panel (the legacy of the original cockpits, with the main instruments outlined above arranged in front of the pilot and below the front windscreen)
Side panels, at the sides of the pilots' seats and below the side windscreen, used – like all additional surfaces – for displaying in- formation and accommodating the increasing numbers of controls for various aircraft subsystems
Fascia panel, above the front windscreen; - console panel (the topmost and furthest forward part of the control and display equipment located between the two pilots in commercial airliners)
Centre instrument panel, located just below the console panel
Centre pedestal, positioned between the pilots' seats (to the rear of the centre instrument panel)
Overhead panel
Pilot's and co-pilot's seats
Control column and control wheel (historically known as the joystick), replaced by the sidestick in recent aircraft. Together with the rudder pedals, these are an aircraft's basic controls
Two rudder pedals, located at the pilots' feet; - head-up display (HUD), a recent, and increasingly important, innovation
Head-mounted display, used in certain cockpits.
COCKPITS TOUR